Cocaine Princess here.
Back in 1984, my all time favorite singer Madonna, released her second album, Like A Virgin. One of the singles from the hit album, "Like A Virgin" attracted the attention of family organizations who complained that the video and the song, promoted sex without marriage and undermined family values, offering an unsavory image of Madonna as a whore. Outraged moralists condemned her as a sex kitten and sought to ban the song and the video. Conservatives were angered that Madonna dared to portray religious symbolism and the virginal wedding attire in a sexual context. She performed the song for the first time on September 18th,1984 at the first MTV Video Music awards. Wearing a wedding dress and a belt buckle that said "Boy Toy," she sang a sultry version, ending with a simulated orgasm. In 2000 Madonna herself spoke about the song:
I was surprised by how people reacted to "Like a Virgin" because when I did that song, to me, I was singing about how something made me feel a certain way – brand-new and fresh – and everyone interpreted it as I don't want to be a virgin anymore. F*ck my brains out! That's not what I sang at all. "Like a Virgin" was always absolutely ambiguous.
And now in the year 2014 a nun --yes that is not a typo--has re-recorded the song. This past year Sister Cristina from Sicily won the Italian version of The Voice talent show. She had surprised the judges at her audition in March and then triumphed reciting the Lord's Prayer at the final and signed a deal with Universal for the album due out next month.
So why this particular song?

"I chose it myself. Without any desire to provoke or scandalise," Scuccia, 26, told the Catholic newspaper Avvenire. "If you read the lyrics without being influenced by what has gone before, you discover that it is a song about the capacity of love to make people new again. To release them from their past. And this is how I wanted to interpret it."
But......
Not everyone is a fan of Sister Scuccia's new musical career. Catholic bishops have distanced themselves following her album release. Like the original, the video for the song was shot in Venice, with Sister Cristina dressed in her trademark black habit, sensible shoes and crucifix, performing against a moody black and white backdrop of church spires and cupolas. The video was criticized as a "reckless and calculated commercial operation" in an editorial by the Servizio Informazione Religiosa (Religious Information Service) news agency, which is closely connected to the Italian Bishops' Conference. There was also criticism from Famiglia Cristiana (The Christian Family), an influential Catholic magazine, which said the nun's performance for her debut album verged on "prima donna behavior".

The album includes a cover version of Alicia Keys' No One, which the young nun performed on The Voice and which first brought her to worldwide attention. There are also hits by Jessie J, Coldplay and Cyndi Lauper.
Let's hope it's not She Bop!
So, what does the Queen of Pop have to say about all this? Yesterday morning Madonna posted the following on

her twitter page: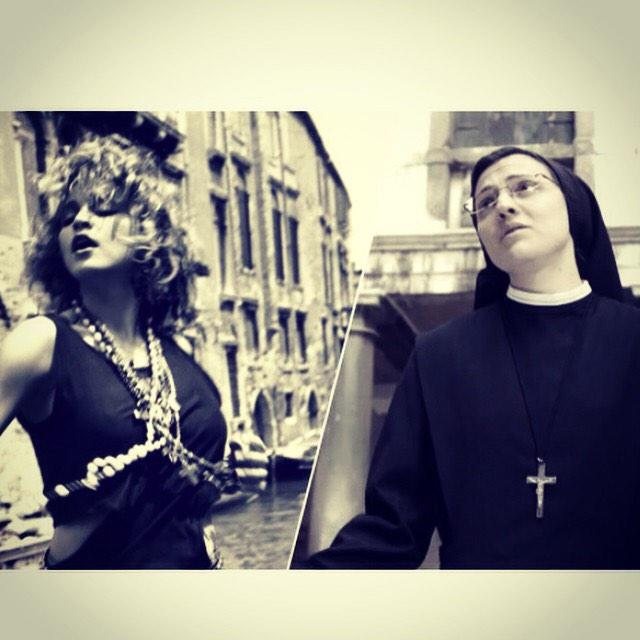 #
bitinghard
Followed by this one hours later: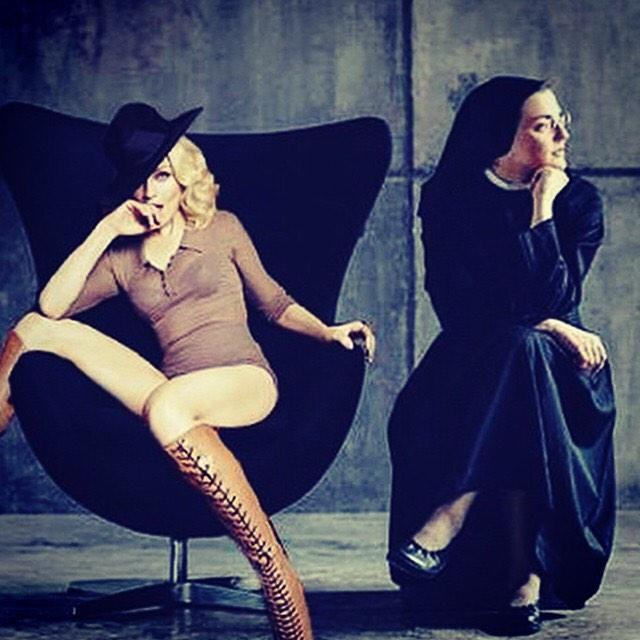 The original video:
Sister Cristina's version:
****
And in other news.....

Halloween is exactly one week away and I love everything that relates to this day. However, this is perhaps taking it a little too far. A prank titled "Chainsaw Massacre Prank!" features a chainsaw-wielding psychopath dragging a bloody, dismembered, corpse in a parking structure as unsuspecting passerbys scream and run from the carnage. The video uploaded last week has already garnered over 26 million YouTube views.
I admit the videos are both entertaining and terrifying but if I was to actually witness something like this, I'm not going to lie, I'd probably die of a heart attack.

What do you think?
****
My loyal and dear readers, it's finally Friday.
Whatever your plans are have a superb weekend.~x
XOXOXOXO,
Cocaine Princess